Help! We need your votes!
Hayley and I entered a background contest on a fansite for Green Day called GDA (Green Day Authority) about a week ago, and our entries were accepted! :D This means that if our backgrounds get the most votes, we win a limited edition poster! Hurry and help us out, because we only have until Thursday!
You don't need to be a Green Day fan to help us out. All we need is two minutes of your time for you to fill in the bubbles by our entries and click the submit button. You don't have to sign up for anything, answer any questions, or fill out any information at all. Three clicks of your mouse and you're done!
We would both really, really appreciate your help on this. We're huge Green Day fans, and this would mean so much to both of us to win. I'm including a tutorial with screen shots to show you exactly how to vote for us.

1. Go to http://www.greendayauthority.com/contests/

2. Scroll to nearly the bottom of the page you are taken to until you see this: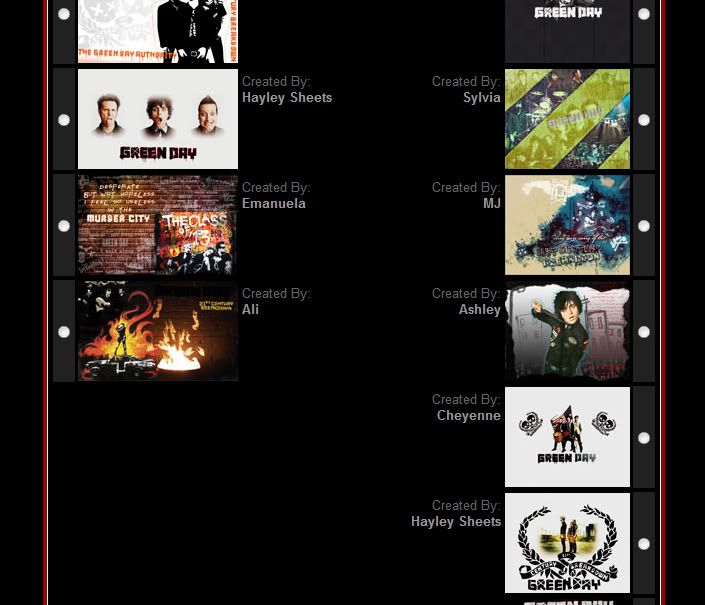 3. On the left column, fill in the little bubble (it will become blue when it's selected) beside the entry titled "Created By: Hayley Sheets". On the right hand column, fill in the bubble titled "Created By: Cheyenne". Below is how your screen should then look, minus the red boxes and the green highlighted text. I did that to show you the entries you should be voting for.




4. Scroll all the way to the buttom of the screen and click the 'Submit' button.




Please make sure you have both entries selected before you submit your votes. Each computer is only allowed to vote once, so if you forget to fill in a bubble than you've wasted one half of your vote. =(